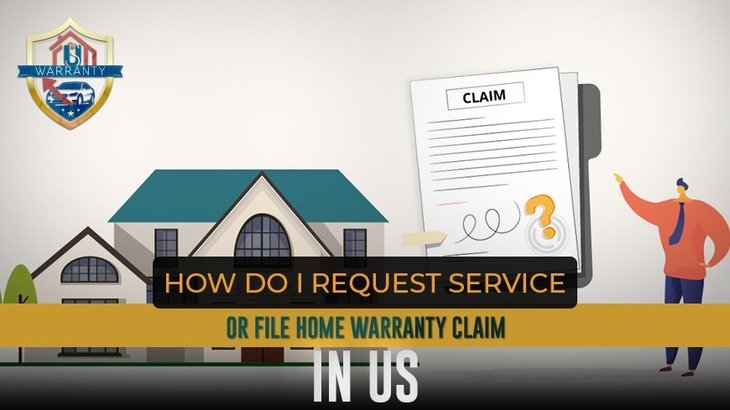 How do I request service or file Home Warranty Claim in US?
When faced with a malfunctioning appliance or system covered by your home warranty, filing a claim becomes crucial to get it repaired or replaced. The good news is that there is no contractual limit on the number of home warranty claims a homeowner can make, as confirmed by First American Home Warranty.
Paying the Service Fee and Any Repair Expenses Not Covered
When the technician comes to repair your item, they will charge a service fee, typically starting at around $75, depending on your contract. Additionally, if certain repair components are not covered in the contract, you will need to pay for those expenses separately. For instance, while some home warranty companies cover refrigerators, they may exclude water dispensers, ice makers, or electronic controls. Similarly, they might cover your stove but not the clock or glass door.
When to File a Home Warranty Claim
As soon as a covered appliance or system fails or requires repair, it is recommended to file a home warranty claim promptly. While most home warranty companies offer 24/7 claims assistance, the time it takes for the warranty company to contact a service contractor can vary, sometimes taking up to 48 hours or longer.
After initiating the claim, you will need to wait to hear from the contractor and coordinate a convenient day and time for the repair. During this period, your affected appliance, such as your fridge, oven, or HVAC system, might be out of commission for several days. While the warranty company may attempt to expedite your claim, there is no guarantee of immediate resolution.
To prevent claim denials, ensure that the malfunction in your system or appliance is not due to a pre-existing problem. Pre-existing issues are generally not covered by warranties, so it's essential to carefully review the terms of your agreement. Familiarize yourself with what your plan covers and whether you may need to pay for repairs out-of-pocket if they fall outside the contract's coverage.
How to File a Home Warranty Claim
A home warranty can be a valuable tool for homeowners who want to protect themselves from the cost of unexpected repairs to their appliances and systems. However, it's important to understand how to file a claim in order to get the most out of your policy.
Here are the steps involved in filing a home warranty claim:
Verify and understand your coverage. This includes knowing which appliances and systems are covered, as well as the coverage limits and exclusions. You can find this information in your home warranty contract.
Request a service visit. Once you've determined that your claim is covered, you'll need to call your home warranty company to request a service visit. The company will then send a technician to your home to diagnose the problem.
Determine if you need to repair or replace the appliance or system. The technician will recommend whether to repair or replace the appliance or system. If the cost of repairs is more than the coverage limit, the company may choose to replace the appliance or system instead.
Pay any out-of-pocket expenses. If some parts of the repair are not covered by your home warranty, you'll be responsible for paying for those parts.
Get reimbursed for your expenses. Once the repair is complete, the home warranty company will reimburse you for the service fee and any out-of-pocket expenses that were covered by your policy.
Mistakes to Avoid in Filing a Home Warranty Claim
The most significant mistake people make when filing a home warranty claim is failing to understand the covered items and exclusions. To save time and avoid frustration, read the terms and conditions of the warranty thoroughly before purchase to ensure it offers the necessary coverage.

Must Read: Heritage Tips Winterizing your Vehicle
Moreover, many home warranty companies do not allow you to select your own contractor. They partner with specific contractors, so you must clarify this before attempting to schedule a service request. Opting for your contractor may result in your repairs not being covered under the warranty.
Timeframe for Filing and Payout of Home Warranty Claims
Most home warranty companies provide online claims forms on their websites and offer a customer service number for phone claims, questions, and inquiries. Filing a claim online should take only a few minutes if you have all the required information on hand. If you choose to call customer service, wait times may vary.
As for receiving the claims payout, you will be responsible for paying the service fee upon the completion of repairs. Failure to do so may cause delays in reimbursement and might affect any future warranty claims until your account is in good standing. For precise details on the time it takes to receive a claims payout, carefully review your contract or a sample contract if you are still considering options.
Conclusion:
Navigating the process of filing a home warranty claim is essential for every homeowner seeking peace of mind and protection for their appliances and systems. By following the steps outlined in this 2023 guide, you can ensure a smooth and hassle-free experience should any covered item malfunction or require repairs.